FOCUS AND CONCENTRATION. ENDURANCE AND ENERGY. APPETITE SUPPRESSION AND GLUCOSE CONTROL.
Unroasted coffee powder appears to be found in the food supply dating back as far as 850 AD. Raw coffee beans were consumed in Africa already in 1000 AD. The tribes just ate the raw dried beans. They coated them in animal fat and gave them to their warriors for much needed energy during battles or hunt. Coffee beans are often roasted today, but there is still huge consumption of the raw green beans. It is known that the beans can be chewed in the raw green form. This is known to give energy and was used as ancient medicine for bowel issues. The raw green coffee beans are still alive and they will sprout if they are put in a bit of water.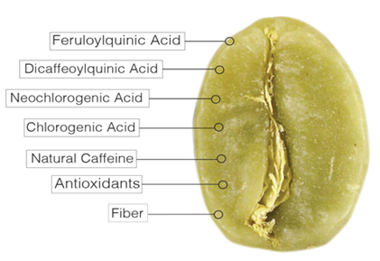 Normally the coffee beans are dried and the roasted. The heat destroys on one hand all the chlorogenic acids and all the antioxidants, and on the other hand it cracks the bean matrix to support a faster release of caffeine and flavours. WGCP™ is made from the entire raw unroasted bean that is processed by a patented process (Deep temperature Cryo-Milling under inert-gas atmosphere) into a powder that is still rich in fiber, acids and other nutrients that offer many health benefits. WGCP™, is not an extract. WGCP™ is a natural food source, so it can be added to foods.
SLOW CAFFEINE RELEASE FROM WGCP™
Water soluble and instant caffeine delivers effects too quickly and can creates an immediate and high caffeine spike in the blood that in can cause some negative side effects such as jitters, rapid heartbeat sweating, fast urination and neuronal crash later. Classica caffeine product give a high peak of caffeine in the blood and the higher this peak is the faster is the decrease and the crash afterwards.
WGCP™ releases caffeine much slower and longer than traditional other caffeine products through the dietary fiber and the whole bean matrix.
The caffeine in WGCP™ is still organically bound within the bean matrix and therefore slowly released over period of 6 – 8 hours. This slow release effect was tested and proven at the Tampa University (USA) in several trials.
PATENTED PRODUCTION PROCESS
WGCP™ is produced by a patented the manufacturing process to transform raw unroasted coffee beans into safe organic consumable coffee powder made from the entire raw bean.

WGCP™ IS MORE THAN JUST CAFFEINE
WGCP™ contains between 1-2% caffeine but between 7 – 10% of natural chlorogenic acids which is 5 times more chlorogenic acids than caffeine. WGCP™ contains the full spectrum of all 6 different known isomers of chlorogenic acids and all kinds of unknown chlorogenic acid isomers in the natural ratio of the coffee bean.
Chlorogenic acids have many different health benefits, such as:
COMPARISON OF WGCP™ AND GREEN COFFEE BEAN EXTRACT

WGCP™ A20 /
WGCP™ A40
Raw Arabica Coffee Beans
Light green powder
20/40 mesh particle size
Caffeine content 1%
WGCP™ can be used in blends, bars, dietary supplements, instant beverages (RTD, energy drinks) and functional foods
WGCP™ R20 /
WGCP™ R40
WGCP™ AO20 /
WGCP™ AO40
WGCP™ RO20 /
WGCP™ RO40
To request more information about WGCP™ just check the following boxes and complete the form listed below. We will contact you as soon as possible.