Vegan pea protein granules
Vegemeat is a vegan meat alternative based on pea protein. Due to the minced meat-like texture and the spicy taste, the vegan pea protein granules can be used in dishes such as Bolognese or Lasagne. It can be fried like minced meat in the pan, or it can be used as a substitute for a recipe. Particular advantages of Vegemeat are the high protein content of more than 75g / 100g, the non-existent pea taste and the pleasant consistency. It is also preservative-free and low in carbohydrates.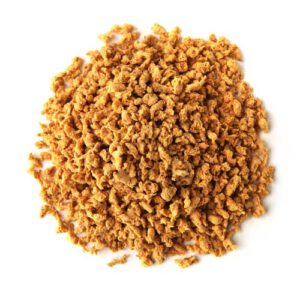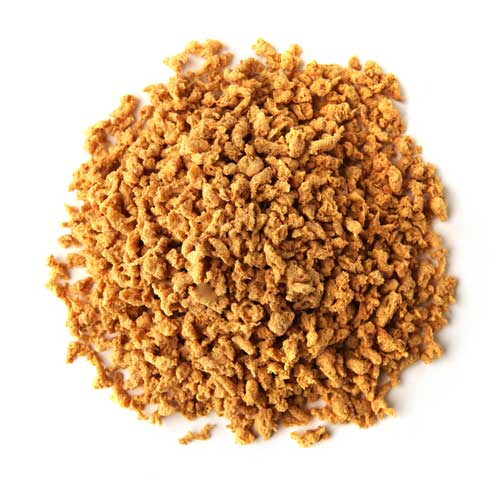 Made of peas, a plant based protein source
Vegemeat as a raw material consists of dry, fine vegan pea protein granules. The average size of one particle is approximately 7mm. Vegemeat contains no preservatives and consists of pea protein, strawberry juice concentrate, salt and glucomannan (konjac root). It is 100% vegan and allergen-free, contains no soy or gluten. For preparation, hot water must be poured into Vegemeat and it has to swell for about 20 minutes. Vegemeat will soak up the water and then swells to about twice its original size. After swelling in hot water, Vegemeat is ready to use after pouring off.
The nutritional data may change due to the natural origin of the material. These values are not specified. Based on 100g Vegemeat has the following nutritional data:
The content provided on this website is for information exchange between business partners and is not intended for consumers.
To request more information about Vegemeat, Taiyo's vegan pea protein granules,  just check the following boxes and complete the form listed below. We will contact you as soon as possible.