05 Oct 2016 — Nestlé Health Science has revealed a new drink specially designed for people with digestive sensitivities. ProNourish is the first nationally distributed product of its kind designed and marketed specifically to be low in FODMAPs, and will be available in the US.
The new product joins the rapidly growing FODMAP friendly market. According to Innova Market Insights data, global launches of food products with FODMAP claims features are already 50% higher in the first 9 months of 2016, compared to the whole of 2015.
The US, in particular, is seeing a huge growth in this category. So far in 2016, there has been a 71% growth in FODMAP product launches, compared with 7% in 2015.
Products such as 'FODMAP bars' are examples of products recently launched in the US. Be Nice (pictured), from Nicer Foods, is a low FODMAP Protein bar, designed to be FODMAP friendly. It is also vegan, dairy free, soy free, corn free, and certified gluten-free, tapping into the 'clean eating' trend.
FODMAP, an acronym for Fermentable Oligosaccharides, Disaccharides, Monosaccharides And Polyols, classifies specific types of short-chain carbohydrates that can be poorly absorbed in the small intestine, resulting in severe abdominal pain, bloating, constipation and/or diarrhea and excess gas in some people. Previous research shows that a diet low in FODMAPs can significantly reduce symptoms of digestive discomfort for some people living with digestive sensitivities, and the efficacy of the low FODMAP diet is supported by more than 30 clinical studies.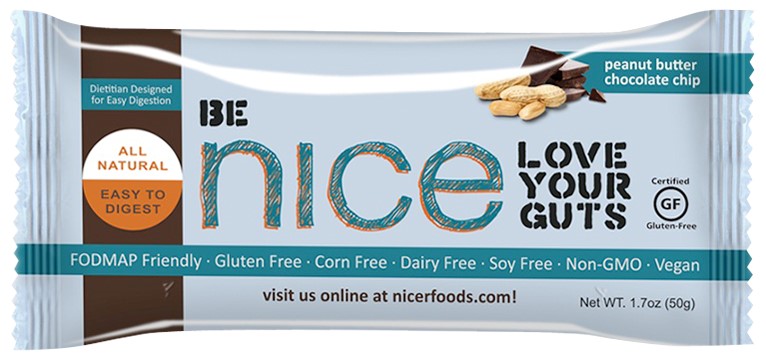 A spokesperson from Nestlé Health Science Communications told NutritionInsight, "Conversation around the low FODMAP diet has recently steadily increased and we hope the conversations will continue so that those who could benefit from a low FODMAP diet are aware that they can begin to feel better."
"Nestlé Health Science is focused upon advancing the role of nutritional therapy for people, patients and our partners in healthcare."
"By harnessing scientific and clinical advances, and bringing forward innovations addressing unmet and underserved needs, we are forging a more integral role for nutrition in health management."
To be launched in the thriving US FODMAP market, the new ProNourish drink from Nestlé Health Science is described as a "delicious nutritional drink that helps make following a low FODMAP diet easier, whether at home or on-the go."
ProNourish Nutritional Drinks have been analyzed and certified as Low FODMAP by Monash University as part of the Low FODMAP food certification program.
"Meal and snack time can be filled with anxiety for many patients because they experience gastrointestinal symptoms after eating certain foods, such as those that are high in FODMAPs," explained Travis Stork, M.D., spokesperson for ProNourish.
"I recommend ProNourish drink as part of a low FODMAP diet so patients can enjoy a mini-meal or snack without worry."
Containing 15g of protein and 25 essential vitamins and minerals, ProNourish has no gluten, high fructose corn syrup, sugar alcohols or artificial colors.
It also features the TruComfort Digestive Care Blend, with ingredients carefully selected to be low in FODMAPs, including 3g of low FODMAP fiber to support digestive health.
The product is available to both general consumers and healthcare professionals.
by Hannah Gardiner