SUNFIBER® COLA - THE FIRST FUNCTIONAL COLA WITH ENERGY 4.0 EFFECT
Jointly developed by natural ingredient experts, Taiyo, the German soft drink producer Sinalco and the German sweetener experts Sweethouse. Sunfiber® Cola is a functional soft drink with caffeine that's sugar free and enriched with dietary fiber. Owing to its high fiber and low-calorie status, it contributes to a healthy diet and supports weight management.
Taiyo's Sunfiber® is derived from the Indian guar bean, a member of the legume family, and is therefore 100 % natural. Importantly, the dietary fiber is absolutely tasteless, odorless and water-soluble, so it doesn't adversely affect the taste, mouthfeel or appearance of the end product. Sunfiber® is fermented by bacteria in the large intestine. This fermentation leads to a production of short-chain fatty acids (SCFA), which are absorbed by the mucosa and have a satiating and appetite-inhibiting effect. Dietary fiber and SCFA are activating and enzyme in the body called AMPK which is producing ATP, the cellular energy fuel for all our cells. Dietary fibers are therefore stimulating the enzymatic energy production in the body called Energy 4.0.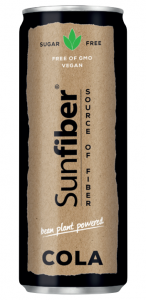 As confirmed in a crossover study, the drink can increase fiber uptake and reduce calorie intake. As a result, it has been shown that the consumption of Sunfiber®-containing beverages significantly increases the feeling of satiety and reduces the energy intake of the next meal by 70 – 100 calories. Taiyo's partner, Sinalco, contributed the basic recipe of its popular cola drink and the sweetening concept was developed by Sweethouse