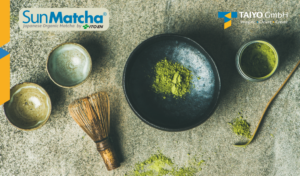 Taiyo would like to inform customers about an important change regarding its Matcha products. We are happy to announce that we have renamed two popular products to better align our brand and offerings.
Effective immediately, our EU Matcha 70 will now be known as:
"SunMatcha® Kokyu – Japanese Organic Premium Matcha" and our EU Matcha 100 will be known as:
"SunMatcha® Gishiki – Japanese Organic Ceremonial Matcha".
more information about the brand >